2,400 vials of insulin were purchased with the money raised in 2016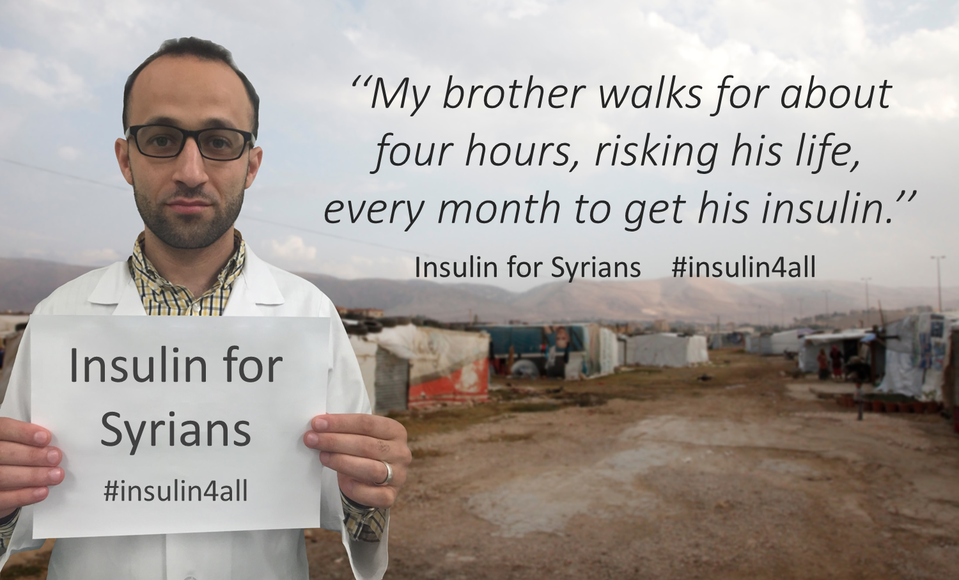 "For us to secure the most basic necessities of life is becoming extremely difficult with a small child suffering from diabetes. I tried to run away towards Europe, but did not have the courage to risk taking my family in the sea after I saw pictures of children who drowned in the sea.
We are trying to keep alive, but of all things I wish that my son could live like other children."
The above is just one example of thousands of harrowing stories of Syrians affected by diabetes and war. This is why we carried out our 'Insulin for Syrians' appeal in June and July of 2016. Donors helped ensure these families get their life-saving insulin and diabetes supplies.
All funds raised through this appeal went to our partner organisation, The Syrian American Medical Association, which is working at hospitals in various parts of Syria. The funds provided insulin, syringes, and blood glucose monitoring supplies for people in Aleppo and other locations in Syria that were cut off from aid.
We are thrilled to share that, thanks to you, we raised £9,388 ($12,500) for those in need.
A big thanks to our friends at Beyond Type 1 who matched £1000 ($1342) to help address these urgent needs. Thanks to everyonewho gave generously to save lives.
Our partner in this campaign in the Syrian American Medical Society (SAMS). They are working in various parts of Syria, including Aleppo and Idlib where it's especially dangerous and where the need is great. Insulin and other supplies will be purchased in Turkey from various providers as there is little to no insulin available in Syria now. It is brought over on a reefer truck by the incredible SAMS staff who cross extremely dangerous roads to get back to Syria. They know that although it is unsafe, there are thousands who need insulin urgently. There are only a number of operating hospitals left in Syria, many of them underground. These will be the main points of distribution of the insulin and supplies, where things can be kept cool.
In Aleppo, the road is heavily targeted from snipers, shells and air strikes, and it is exposed from two sides – the Kurdish militias and the government forces. The SAMS Logistics Manager told us, "The doctors and the medical aid providers threaten themselves to deliver the insulin and the other medical aids to more than 300,000 living in the city. Many civilians are killed every day. They are facing many difficulties in their life, even if they did not need medical service. The hospitals are the main targets of the Syrian and Russian air strikes."
Very recently, the largest hospital in the city was targeted. Fortunately there no casualties, only damages to the windows, doors and electricity. The Manager said, "This is the same hospital we are working on moving underground…We are planing to make it one of the insulin centers in the city. In addition to this center, we are planing to add three more in the city if we can provide the insulin to the diabetics there."
100% of funds raised will go towards insulin and supplies for people in Syria amidst the crisis. The Syrian American Medical Society (SAMS) is one of the only groups continuing to operate in some of the worst parts of Syria. They are doing their best to keep hospitals safe, despite the ongoing targeting of those facilities. They are already helping some people with diabetes to get their insulin and supplies, but the need is huge. Your donation will be restricted to supporting the needs of people with diabetes, specified by T1International, and it will truly give them the gift of life.