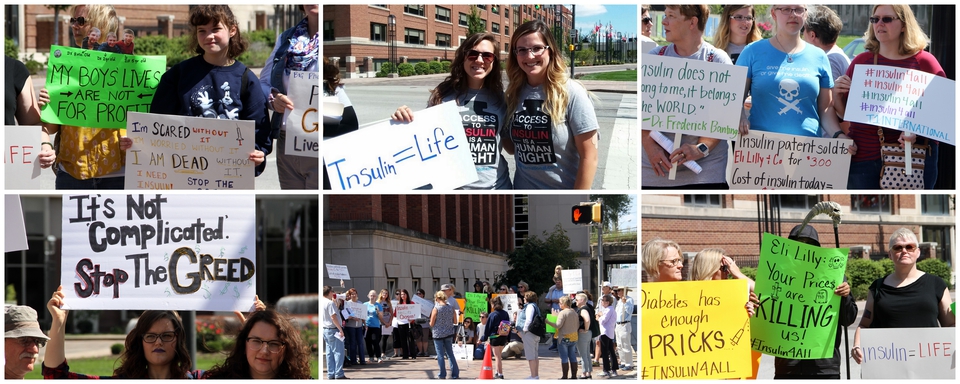 Take Action with Us
At T1International we will continue to work on insulin access and affordability issues on a global scale. With your continued passion and energy, we can keep pushing this movement forward. We are a very small team with no full-time staff, but we will be here to support you an connect you with others to take action in your local area.
One thing is for certain, we must keep raising our voices to ensure we are heard! If the millions of Americans that are insulin dependent speak up, insulin manufacturers and government representatives will not be able to turn a blind eye to this crisis any longer.
What Can You Do?
Call your representatives. This means calling your senators, your congressional representative and your state representatives. To find your federal representatives, enter your zip code on Contacting Congress. To find your state representatives, look up your address on Open States. When calling, ask to speak to a legislative aide or staffer who works on health policy.
Tell them your story. This is often the most important thing to share with your representatives. Do you have a story of a time you or your family had to buy insulin out of pocket or struggled with costs? Do you have fear and anxiety of not being able to afford the costs of your insulin or diabetes supplies day to day? Tell them! If you're nervous about this part, reach out and we can help you.
Have an ask. Telling your story makes the issue real, but we also need to ask our reps to take action on the high price of insulin. Here are some examples:
Ask your state representative if you can arrange a meeting to speak about insulin pricing in person. If you get a meeting, we can help you prepare.
Ask them to support specific legislation that would help end the insulin pricing crisis, and ask them to oppose any legislation that would make the crisis worse.
Ask them to consider bringing forth legislation similar to SB539, which was passed and signed into law in Nevada.
Most importantly, tell them that the price of insulin in America is too high. Ask them to do whatever they can do to bring unaffordable costs down and ensure all diabetics have access to the insulin they need.
Tell them about the protest happening on September 30th and ask them if they will voice their support. See below for some facts you can offer to help them understand the issue.
Tell us who you contacted by filling out the simple form. You can also Tweet it out and post it on Facebook or Instagram. Tell us what the outcome was and where your representative stands.
Connect! Find your state Chapter and connect you to advocates in the same area fighting for #insulin4all.
If you want some additional facts to support your story, try these!


Response to the argument that patient assistance programs are addressing the problem:
At most only 10% of people in need will actually benefit from Lilly's newest program. That estimate is coming from the company itself.
To receive free medications from pharma programs, patients must meet very specific program eligibility requirements. Even meeting the criteria does not guarantee eligibility for the program.

Jordyn Wells, Diabetes Payer and Institutional Marketing Strategy at Eli Lilly and Company, told Diabetes Mine that most of what Lilly has introduced into the marketplace are basically "band-aids" that are "not ideal," but are short-term solutions.
Eli Lilly Demonstration + Day of Action
On Sunday, September 30th, 2018, we again demonstrated outside Eli Lilly. On October 1st we will had another day of calls to representatives and senators at the federal and state level. Advocates around the USA continue to inform, educate and advocate for lowering insulin prices and increasing access in America.
Our representatives need to know how essential it is for them to tackle the issue of insulin access and affordability and that the high prices being charged by Novo Nordisk, Eli Lilly and Sanofi for insulin are unacceptable. You can get engaged right away by using the resources and information on this page.