Tragedy Ignites Change
Kevin Houdeshell tragically lost his life after being unable to contact his doctor to authorize an emergency insulin prescription refill. As the mother of a son with type 1 diabetes, this is my worst nightmare. Wanting to take action to prevent this from happening again, I followed the path set out by the combined hard work of legislators and Kevin's parents, Dan and Judy Houdeshell.
The Houdeshell's ensured the passage of an emergency script refill bill known as HB 188 in Ohio. HB 188 allows pharmacists to give patients that are out of refills up to an extra 30-day supply of medication, or the smallest unit of measurement possible, if their doctor cannot be reached. The Ohio bill was signed by Governor Kasich on December 23, 2015 and it went into effect March 23, 2016.
Bringing the Issue Home
On July 22, 2016, I met with Senator Patrick Browne to discuss amending a Pennsylvania law that limits emergency prescription renewals to 72-hour supplies. Since insulin cannot be dispensed in such 72-hour increments, the law at that time rendered diabetics unable to acquire a refill of insulin in an emergency situation unless authorized by their physician. Senator Browne became visibly moved as I shared a video recounting Kevin's story.
Both touched and impressed by what had been accomplished in Ohio, Senator Browne agreed to sponsor a bill amending our current prescription refill law on the spot--I was absolutely thrilled! The next month, I met with Pennsylvania State Representative, Ryan Mackenzie, to ask for his help with the proposed legislation. Relaying the same information that I shared with Senator Browne, Representative Mackenzie agreed to join our efforts to amend Pennsylvania's current law.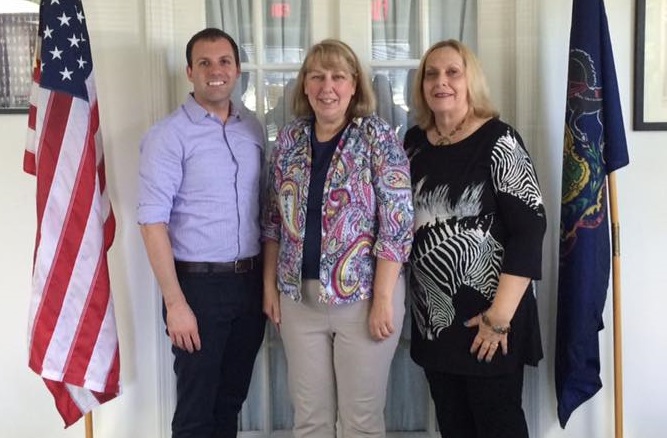 As expected, Senator Patrick Browne took the lead and sponsored Senate Bill 542. A companion bill was sponsored by Representative Ryan Mackenzie in the House. Ultimately, it was decided that the companion bill would not be used. Instead, it was SB 542 that was voted on and passed unanimously in both the Senate and the House. Then, it was signed into law by Governor Wolf on February 15, 2018. The law went into effect immediately. Through this legislation, pharmacists are now permitted to dispense up to a 30-day emergency supply of any life-sustaining drug if it is not available in a 72-hour supply, such as insulin. This law does not apply to controlled substances.
Getting the Word Out
The greatest challenge now for us in Pennsylvania is getting pharmacists to know that SB 542 is the current law. In order to get this information disseminated, I contacted several representatives from the Pennsylvania Pharmacists Association. Patricia Epple, CAE, CEO of the Pennsylvania Pharmacists Association responded to me by saying: "We have put this on a mass email to all our members and in our weekly bulletin." Not all pharmacists in Pennsylvania are members of the Association, so it will take a little time for this information to be known by all Pennsylvania pharmacists.
Emergency prescription laws vary by state and have been passed in the following states: Ohio, Florida, Arkansas, Arizona, Wisconsin, Washington, Illinois, Idaho, Michigan, and Pennsylvania. Utah, Oregon and Connecticut are pursuing similar legislation to amend their emergency prescription refill laws and prevent tragedies like what happened to Kevin Houdeshell. If there is no such legislation in your state, I encourage you to advocate for it.
Tips from My Experience
For those of you ready to advocate, I recommend being prepared when you meet with your legislators. For example, I created a mini-binder full of information for Senator Browne and Representative Mackenzie. Each binder contained the following information:
an agenda of the things that I wanted to discuss
a copy of the Ohio Emergency Script Refill Law
an article titled "New Laws Impacting ConsultAgreements and Emergency Dispensing Now in Effect!"
an article titled "A Review of State Emergency Prescription Refill Protocols"
two letterswritten by residents of Pennsylvania who had encountered real difficulties when trying to get a refill of an insulin prescription during an emergency situation.
If you can, bring someone with you when you meet with your legislators. I was blessed to have Sharon Abendschoen with me when I met with Senator Browne and Representative Mackenzie. Sharon is a friend and a grandmother of a child with type 1 diabetes whose support and insight was invaluable throughout the process.
It is also very helpful to partner with healthcare professionals when advocating for legislation that benefits people with diabetes (PWD). For example, Lisa Laird and Pat Adams are Registered Nurses, as well as outstanding Certified Diabetes Educators (CDE), who pushed for SB 542 through the Pennsylvania Body of the American Association of Diabetes Educators. The over 600 members of AADE in Pennsylvania undoubtedly helped us to get SB 542 passed quickly.
If you are truly prepared to meet with your state legislators, you have a great chance of being successful! Please feel free to email me at dhealy@ptd.net or contact me on Facebook if you have any questions about T1D advocacy. I am happy to help anyone.
You can also reach out to Dan Houdeshell if you have an interest in amending your state law regarding emergency prescription refills. You can email him at dhowdy1965@gmail. com or contact the family on Kevin's Memorial Facebook page.