Meet Laurien. He's a Research Specialist in Epidemiology at the University of Pittsburgh. He's originally from Rwanda and has supported programmes and research into helping people with type 1 diabetes. Needless to say, he's a pretty awesome person.
This is one of the longer T1International interviews, but it's one of the most worthwhile reads. You'll learn about life with diabetes in Rwanda and Laurien's work making life better for people there. Because of people like Laurien, there is hope for the future.
Can you offer some information about your personal background and why you are interested in diabetes in resource-poor settings?
In many developing countries, chronic diseases have not commonly been recognized until recently. Only infectious diseases were really addressed, and that was the focus of my studies in the Graduate School of Public Health at the University of Pittsburgh where I completed my masters in Epidemiology. I was introduced to Type 1 diabetes by Dr. Trevor Orchard, an expert in Type 1 diabetes, who was helping develop diabetes care in Rwanda and started a research project focused on the developing world. Being Rwandan, I was thrilled to hear that Rwanda was his country of choice, but I did not anticipate finding as many type 1 diabetes patients as I did.
In 2011, we started our research in Kigali, the capital city of Rwanda where the Rwandan Diabetes Association is located (the main agency delivering type 1 diabetes care). Since then, I have been going in Rwanda 2 or 3 times year, and diabetes care has expanded in many other parts of the country.
Can you tell readers about your home country and a bit about what life is like for people living with diabetes there? For example, what are the general economic conditions in Rwanda and how they might affect people with diabetes?
One cannot talk about Rwanda without mentioning its tragic history, when in 1994 close to a million people were killed in the last genocide of the 20th century. Many of our patients are children who have no parents (killed or incarcerated), making them even more vulnerable to the disease. Though the country has made enormous progress, it is still very poor, causing diabetic patients to struggles between getting adequate nutrition and access to insulin. There are a number of families with many children and the choice of taking care of a diabetic child is hard when siblings need food or school fees.
It sounds like things could be incredibly difficult for people living with diabetes there, but it is also good to hear that progress has been made. Could you explain a bit about the healthcare system and medical facilities throughout the country, with a focus on diabetes care?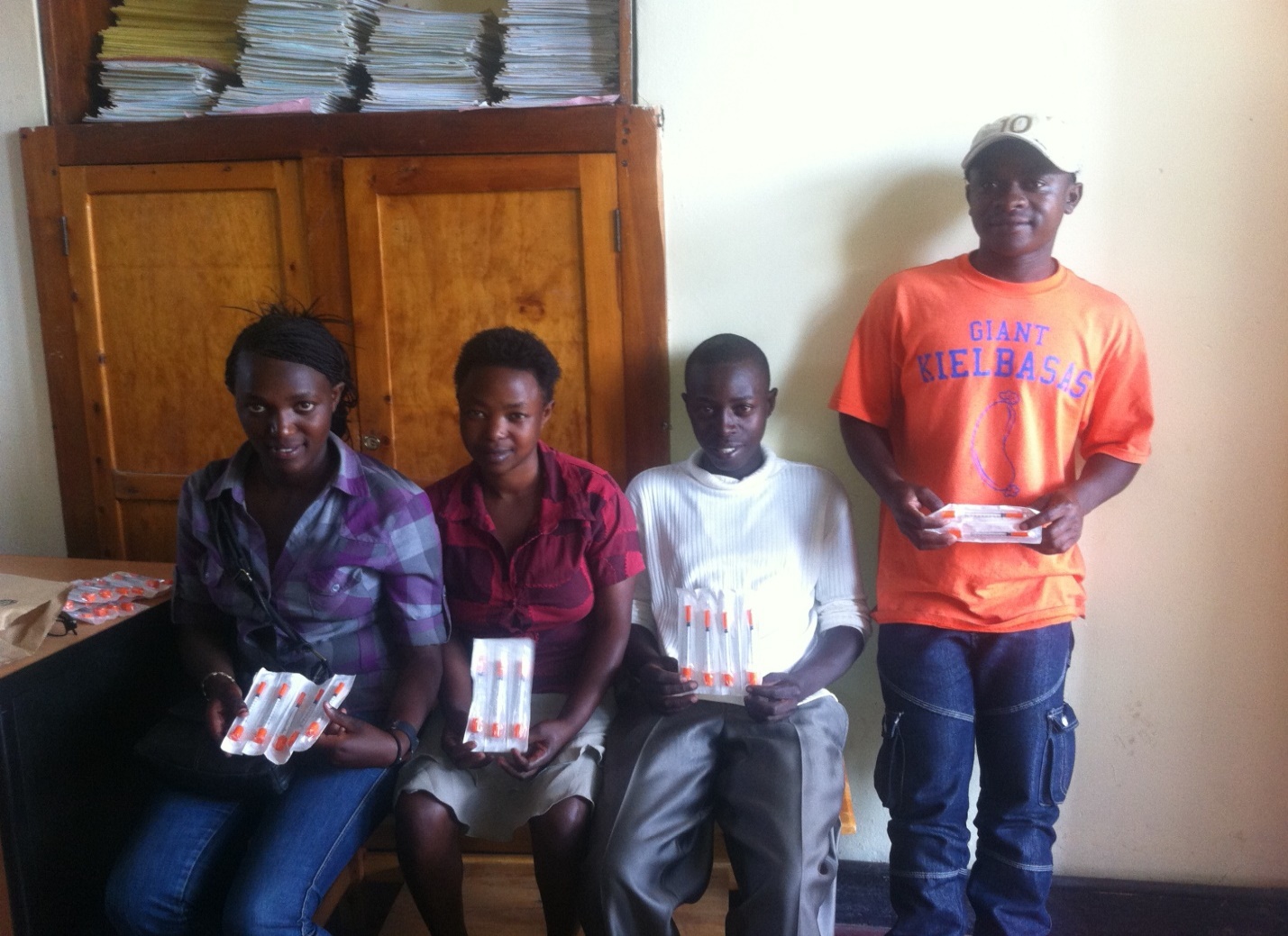 The Rwandan health system consists of the Ministry of Health, 5 referral hospitals, 44 district hospital, about 500 health centers, and 45,000 community health workers. Diabetes care is only delivered at the referral or district hospitals, and at the Rwanda Diabetes Association clinic. Most patients walk to hospitals and some may take more than 6 hours in doing so. With waiting times to get into hospital, patients can spend 2 days for care each month. For those using buses or motorcycle as transport, the cost can be as much as 10,000 FRW ($15) a month. Rwanda is one of the few countries in the developing world with universal health coverage (known in the country as Mutuelle de Santé). Each individual pays 3000 FRW ($6) a year for his/her policy. Needless to say that Mutuelle de Santé has made a huge difference in the lives of Rwandans.
However, diabetes meters and strips are not covered by insurance, and patient pays 10% for any other expense. For instance, one bottle of insulin (regular or NPH) costs 6,000 FRW ($9), and the patient pays 600 FRW. For both regular and NPH they would pay 1200 FRW, or 12,000 FRW ($18) without insurance. The cost of diabetes supplies varies from location to location and gets higher as one moves away from Kigali. These fees might sound low by developed country standards, but for the vast majority of patients who are either unemployed or live on subsistence agriculture without any money to spare, this amount is substantial. Insulin and its components are not always available and when available, they are not affordable to many.
Like any other developing country, Rwandan health system is still designed for infectious diseases, but there is a new effort by the Ministry of Health and its partners to address the issue of chronic diseases including diabetes. One organization that deserves a lot credit is the Rwandan Diabetes Association (RDA) founded in 1997 by Francois Gishoma, who is diabetic himself. RDA has been providing diabetes care throughout the country, in partnership with the Ministry of Health, the Life For A Child program, Team Type 1, Marjorie's Fund, Insulin For Life and University of Pittsburgh.
It's reassuring to know that some great organizations are working on the issues you have highlighted. You've supported a lot of great work on diabetes, especially in Rwanda. Please share with readers a bit more about the projects you have been involved in, the organizations and/or people you partner with and the main projects you carry out.
Our initial research involvement in Rwanda was a clinical trial: Evaluation of differing of Type 1 diabetes regimens in youth in developing world. This study was designed to develop and evaluate a basal insulin based management protocol for the care of children and youth with Type 1 diabetes in developing world which can be easily adapted and widely replicated.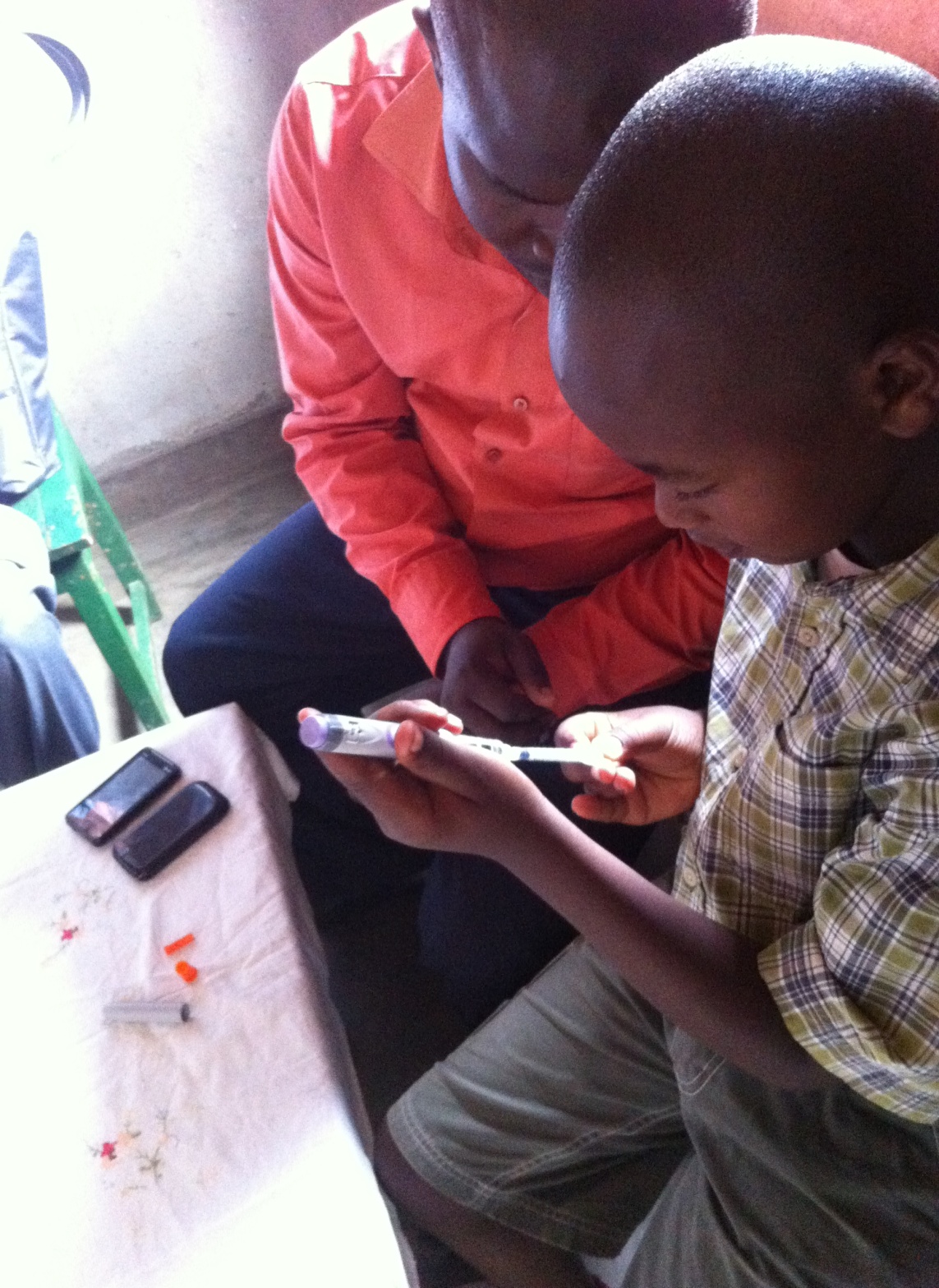 As we developed a better understanding of the situation on the ground, the University of Pittsburgh was able to leverage the support from the 50 study participants to the whole Life for a Child population to strengthen its original humanitarian approach angle. The support includes educational materials, provision of A1C testing kits, A1C machines, meters, and assistance in hospital visits with clinical assessment conducted each summer with Pitt students involved. We have also been able to establish a Type 1 diabetes registry which is updated as visits progress.
That all sounds wonderful. Can you offer your thoughts on the best way to support those who are no longer assisted by Life for a Child, due to reaching the 26 year age, limit or other reasons? In what ways can the diabetes community support such initiatives?
I know the Marjorie's Fund and the Life for a Child are both fantastic organizations and they partner with the Rwandan Diabetes Association to support. I believe that income generating projects based on local needs could be important to the patients. Patients should be encouraged to form cooperatives as encouraged by the government of Rwanda.
As stated earlier, even though I was born and grew up in Rwanda, I had no idea how big the problem was until I returned and interacted with patients and health care providers. I would encouraged everyone to take time and go visit a developing country to learn more about the disease and understand its economic and social implications. It's a different feeling than just reading through books or going on the internet.
I do believe that more needs to be done, and the most important is to have like-minded individuals to operate for a common goal.
From your experience working with those living with diabetes in resource-poor settings, what do you think is the most important issue or problem faced by people living with diabetes in Rwanda that you would like to see changed?
This is a hard one, but access and affordability to diabetes supplies is the most important issue. With that we can add raising awareness among health professionals, schools and the general population. The long distance patients who need to walk to hospitals is another problem. I think that with education and increasing supplies, more health centers would be able to provide diabetes care. Until this is feasible, a mobile clinic van would be a good alternative.
Do you think there are ways we can get the diabetes community (and the global community) to be aware and involved in the struggles of people living with Type 1 diabetes in other parts of the world?
One way is to have individuals like you at T1International armed with the Internet to sound alarm on this issue. Another option could be to pressure the global health and scientific community to pay the same attention to chronic diseases as they do for infectious ones. A young girl told me that she wished she had AIDS, and this is because she was not getting help while her neighbors with HIV/AIDS were. Everybody deserves to live, and there should not be a distinction between HIV, Malaria, TB, or diabetes.
If you could share one main message in regards to diabetes in Rwanda with the government, the global policymakers, or with anyone reading this, what would you say?
Diabetes is no longer a disease of the rich or for the West as was initially believed. It is everywhere, increasing in developing countries. We have over 800 patients and because we are able to locate and assist them, they are alive and largely doing well. There are probably more patients out there who need our support to live a normal and productive life. We understand that the numbers affected by diabetes are not as high as for infectious diseases, but the treatment costs are relatively higher, so we do still urge the government to do all that is in its power to help. We urge that, even though it currently cannot fully care for those with this condition without outside help, the government should remove all barriers for the agencies helping to bring care and education, and give assistance with transport and full access to Mutelle de Sante for those with diabetes.
I cannot finish my interview without thanking the Rwandan Diabetes Association and the Life for a Child for their heavy lifting in this struggle. With a collaboration focusing on lives of those living with diabetes, I absolutely believe that these patients will able to live and contribute to their country development. Finally, thank you very much Elizabeth and T1International for all your unstoppable work.
Thank you, Laurien, for everything you are doing for people with diabetes and for taking the time to help us all learn more about the situation and efforts of you and your teams.