I have had type 1 diabetes for 20 years and in that time, the tools and medication I have used to treat it and the education and information I have had access to have changed greatly. When I was first diagnosed, I used a syringe with a large needle to inject myself twice a day. I had to eat a fixed diet with the same amount of carbohydrates at each meal and any changes in activity or eating habits had to be carefully planned out in advance with a medical team.
Nowadays, I use an injection pen with a needle that is only 5mm long and can hardly be felt. I can eat what I want when I want, and due to some great education provided for free online by the NHS, I am able to take control of my own diabetes and mostly live life as I choose. I can certainly say that medical research and developments have benefited my life greatly since my diagnosis. Despite all that, it is still hard to control and maintain stable blood sugar levels and living with diabetes remains a day to day challenge.
Although it often doesn't seem like it amongst a lifetime of needles, carbohydrate counting and blood sugar testing, I am one of the lucky ones. For many other people living with type 1 diabetes around the world, even access to the very basics that are needed for living with diabetes (such as syringes, insulin, blood sugar testing strips) is difficult. It is outrageous to think that although it is over 90 years since insulin was made widely available, many around the world still struggle to access this and the other tools needed to manage the condition.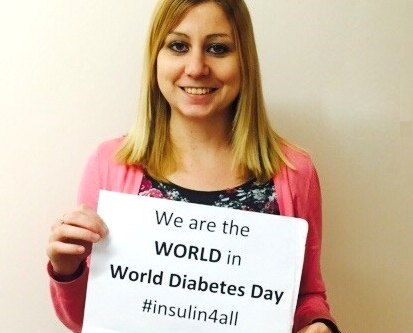 I became aware of this issue fairly recently, in part due to the work of the #insulin4all campaign. I was shocked to realise that had I been born in another part of the world such as Mozambique, my diabetes treatment might cost as much as 75% of my yearly income. Had I been born and diagnosed in sub-Saharan Africa, my life expectancy might only have been a year.
When I saw that the topic for Blog Action Day 2015 was 'Raise your Voice', I could immediately see how strongly this tied in to my feelings about access to insulin. For so many with type 1 diabetes around the world, life can feel isolated and lonely. Imagine facing these feelings in addition to the weight of a constant struggle just to survive. This is why it is important to stand up and be a voice for those who are unable to access the same tools and education opportunities as I have, by sharing their stories and fighting for their rights. It is for this reason that I will be taking part in the#insulin4all World Diabetes Day campaign this year and raising my voice on behalf of all those who can't.
The #insulin4all campaign is for everyone with type 1 diabetes, especially those whose voices aren't heard or are ignored by those who have the power to change things. Mine may just be one voice, but this campaign will bring me together with others who feel the same, making us more powerful.
I truly believe that #insulin4all will allow us to inform others and begin to change things so that surviving with diabetes is no longer impossible for some. If you feel the same, why don't you join me this World Diabetes Day and make some noise at insulin4all.tumblr.com?