Thailand is known worldwide for many things: smiles, temples, incredible food, beautiful scenery, and healthcare. Many people from all over the world travel to Thailand for cheap, high quality surgeries. While traveling in Thailand for a month, we wanted to learn about the lesser-known side of healthcare for diabetics, and what management is like for Thai-pe 1s (Type 1s).
We visited eight different cities, from the far north to the southern islands, and visited pharmacies and hospitals in every city to ask about the availability and cost of insulin. We were only able to speak to one endocrinologist, but we gained a broad view of diabetes in Thailand from speaking to multiple nurses and pharmacists.
Diabetic management in Thailand is very basic, and insulin is solely administered by pens or cartridges. Even in Bangkok, which has the best Healthcare in Thailand, we could not find vials of insulin at the best, most expensive and westernized hospital. In the southern regions such as Krabi, Koh Phi Phi, and Koh Lanta, regular insulin was usually not available. Most of these pharmacies only carry a mix of 25% regular/75% long acting insulin, or solely long acting insulin. We were able to buy regular Humalog to fill my Omnipods in Bangkok, but it was only the cartridges - again no vials. It seems like insulin pumps and Continuous Glucose Monitors (CGMs) do not exist in Thailand. All of the healthcare professionals we met were surprised to see the Omnipod I was wearing.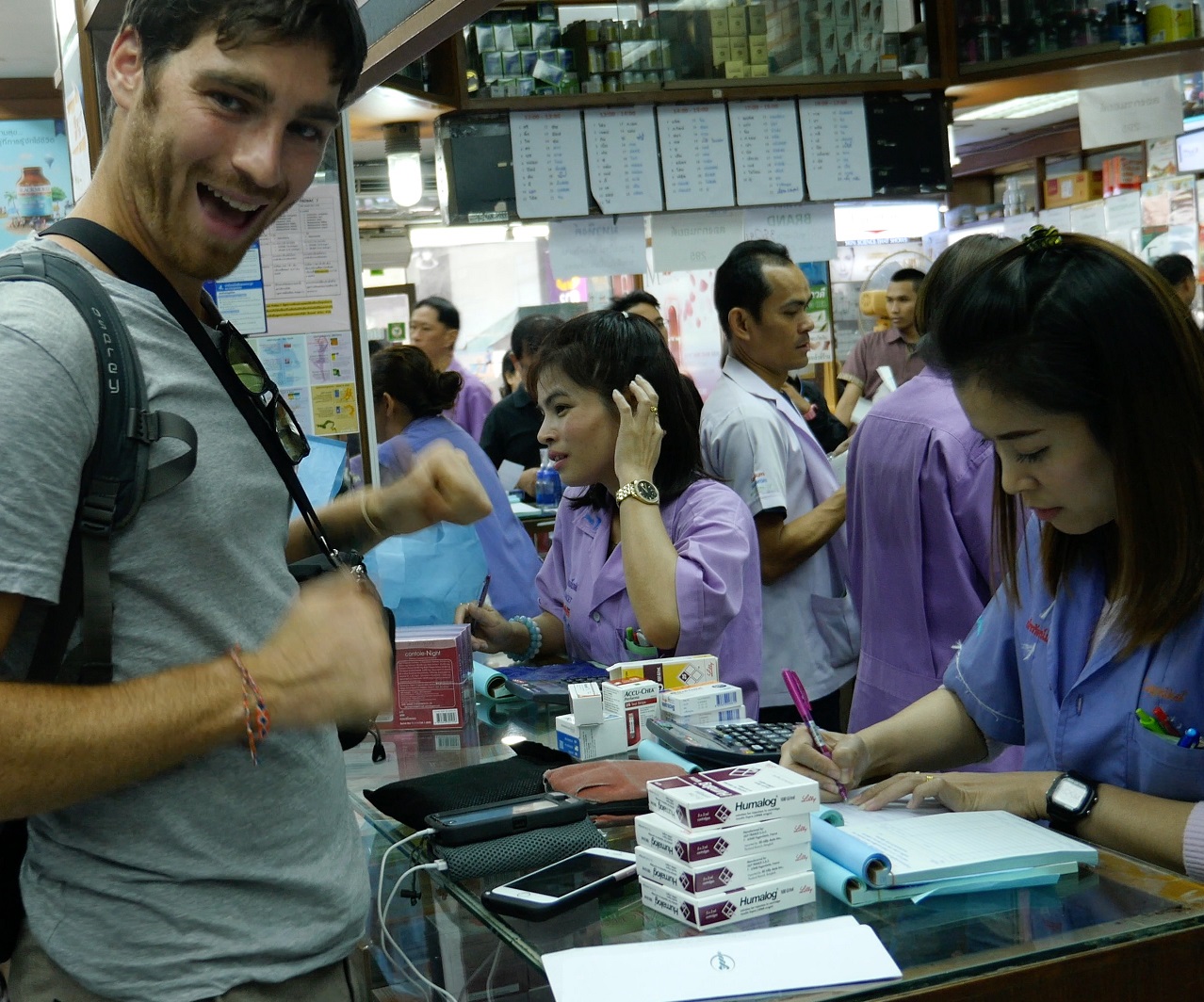 Strips were also rare to find at these pharmacies, and usually expensive, with prices similar to what you would find in the USA. We found that 25 strips typically cost 400 baht, which translates to 11.42 USD. In a country where 400 baht can stretch out to seven or eight meals, it can be hard to justify that same amount for not many test strips.
It appeared that type 1 diabetes is not very common, as all of the pharmacies in the southern region stated that they rarely see type 1s. The endocrinologist we met said that in Bangkok only around 5% of his patients are type 1 diabetic. This, coupled with the lack of insulin and supplies, made us wonder why there are so few people with type 1 diabetes. We can only speculate that if the family had money when someone was diagnosed with diabetes, they moved closer to Bangkok.
Many areas in the southern regions are typically low income, so we suspect that the symptoms are unrecognized many people with type 1 diabetes die before diagnosis. Imagine that you are a parent of a child with type 1 diabetes living in a rural area, far away from a hospital. You have no internet, and your child is one of the first this hospital has seen with type 1 diabetes, so they do not know the condition is type 1. Your child has been treated for weeks for a different condition, and nothing seems to be working. This is the grim reality for many. Even if someone does receive a proper diagnosis, it is very possible that they do not live very long, considering how expensive the supplies are.
On a lighter note, I was the first type 1 diabetic some of these nurses and pharmacists had ever seen, which was exciting for both of us. When speaking to the endocrinologist, we learned that Thailand has healthcare coverage for all working citizens. Insulin is covered under this base coverage, but we were not able to confirm if strips were covered as well. At least all socioeconomic levels get access to the basic provision of insulin – much more than the USA can claim!
The whole experience in Thailand made me think about how to ensure more people are diagnosed and treated with type 1 diabetes. If we educate more front-line medical staff on the symptoms of type 1 diabetes, it is possible that the condition would be recognized sooner and more frequently. This could lead to happier, healthier Thai children with type 1!
---
Eric has lived with type 1 diabetes for the past 18 years (almost his whole life!). He and girlfriend, Emily, believe that Eric's diabetes will not slow them down. They are currently traveling the world for an entire year, learning what living with diabetes is like around the globe. They hope to help other diabetics follow their travel dreams through their blog at Livingleashless.com.