Recently, I was lucky enough to attend Camp Waromo, a four-day diabetes camp hosted by the Sonia Nabeta Foundation (SNF), a wonderful organisation working to ensure that everyone with diabetes in Africa has access to medicine and support they need. T1International is passionate about supporting people and organisations around the globe that are working to make life better for people with diabetes in a sustainable way, so we were honoured to be invited and to share our resources and knowledge.
Beginnings
In early 2017, I had several conversations with Vivian, the Chair of SNF. We discussed how great it would be to really work through the contents of the T1International advocacy toolkit and create an action plan with the Warriors who were ready to become advocates in Uganda.
A few months later, I was on a plane headed to Entebbe, Uganda with Gavin Griffiths (the Diathlete), who also attended the camp to do sports activities and inspire the Warriors. My bag was filled with advocacy toolkits and action plan documents and my head was filled with ideas from discussions with Vivian about how to make the most of the time at Camp Waromo. T1International is in the process of carrying out advocacy training with our team of volunteer Global Advocates, so I came prepared with training materials and ideas to get the Warriors focused on setting a goal and carrying out a plan.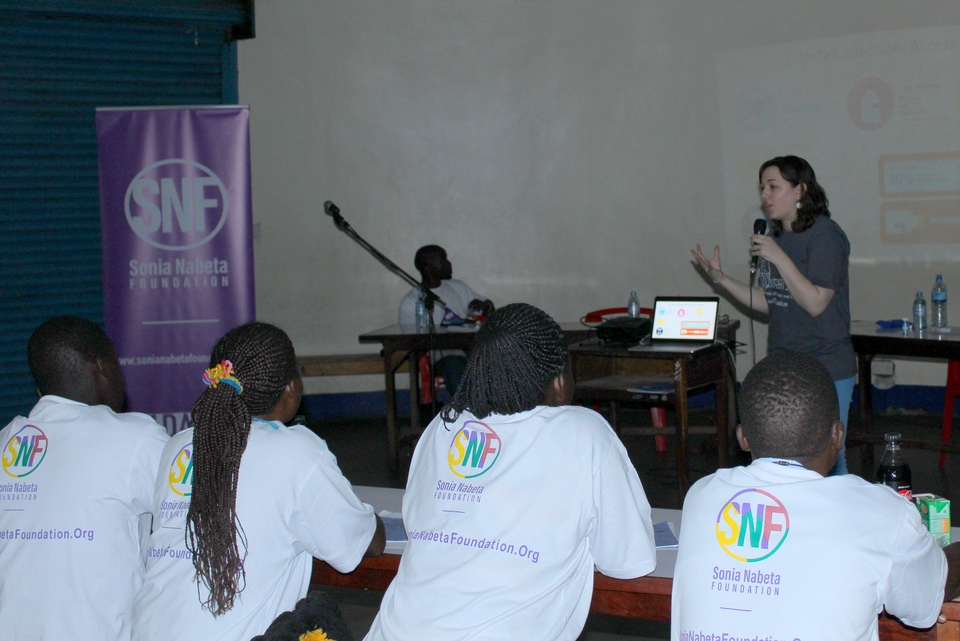 We are in this Together
Our first two days were spent in Kampala, where Forum Tuyinza (Tuyinza loosely translates to "we can do this") was held on the Saturday. This forum was an opportunity for alumni of Camp Tuyinza, the young people with type 1 diabetes who had attended SNF's camp in Entebbe in 2016 to reunite and refocus on their diabetes management and plans for the future.
We heard from SNF Ambassador, Derrick, who lives in Uganda and has type 1 diabetes. He spoke to his peers about the importance of believing in yourself, learning from mistakes, and supporting each other. It was awesome to hear how positive, yet realistic Derrick was about his diabetes. Dr. Thereza Piloya-Were, one of only 4 paediatric endocrinologists in Uganda, spoke to the Warriors about the importance of maintaining good blood sugar levels, and The Diathlete empowered the Warriors by sharing his story and all that he has been able to accomplish while living with type 1.
I was lucky to sit on the panel of speakers and to have the opportunity to talk about the importance of advocacy, talking through the definition of advocacy, why it is so important, and how to get started. Some of the Warriors talked to me afterwards about how challenging they find it to speak out, especially because there is a lot of stigma associated with diabetes.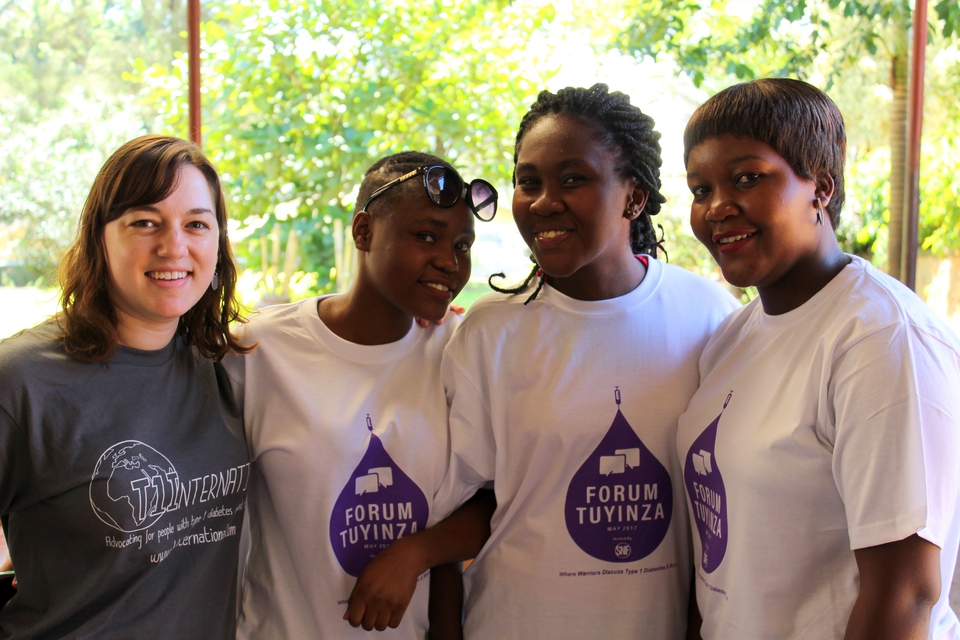 Struggles and Support
The next day we all took the long journey to Gulu, which is 350 km north and about six hours from the capital city, Kampala. The choice of Gulu for the camp was to ensure that more children with diabetes could attend from other parts of Uganda, particularly more rural locations.
In Uganda, access to the diabetes basics like insulin, syringes, and test strips can be a challenge. There is some support provided through programs like Changing Diabetes in Children, but no product is ever available on a lasting basis and the donated goods could stop at any moment. This set-up is stressful and unfair to the patients. Most of the type 1s are on mixed insulin and high-carbohydrate diets, and blood sugars run high because correction doses are not available or understood.
Not to mention, it is very difficult to keep insulin cool enough in the hot temperatures without refrigeration. The Diathlete and T1International were excited to provide FRIO packs to the campers, which are pouches that help keep insulin at an appropriate temperature. Thanks, Frio!
These challenges, and so many others, make life with type 1 diabetes a much larger burden for these marginalized groups than for those of us who have the basics, plus extra tools, technology and support to manage our condition day-to-day. This is why Camp Waromo is so vital. Warriors had the opportunity to connect with others for encouragement and to learn about how to make the most of the insulin and supplies that they do have access to.
SNF did a fantastic job with the camp and facilitated useful sessions. There were a variety of education and recreational actives for the campers to participate in, including a visit to a national park with sightings of countless giraffes, plus hippos and elephants in the wild!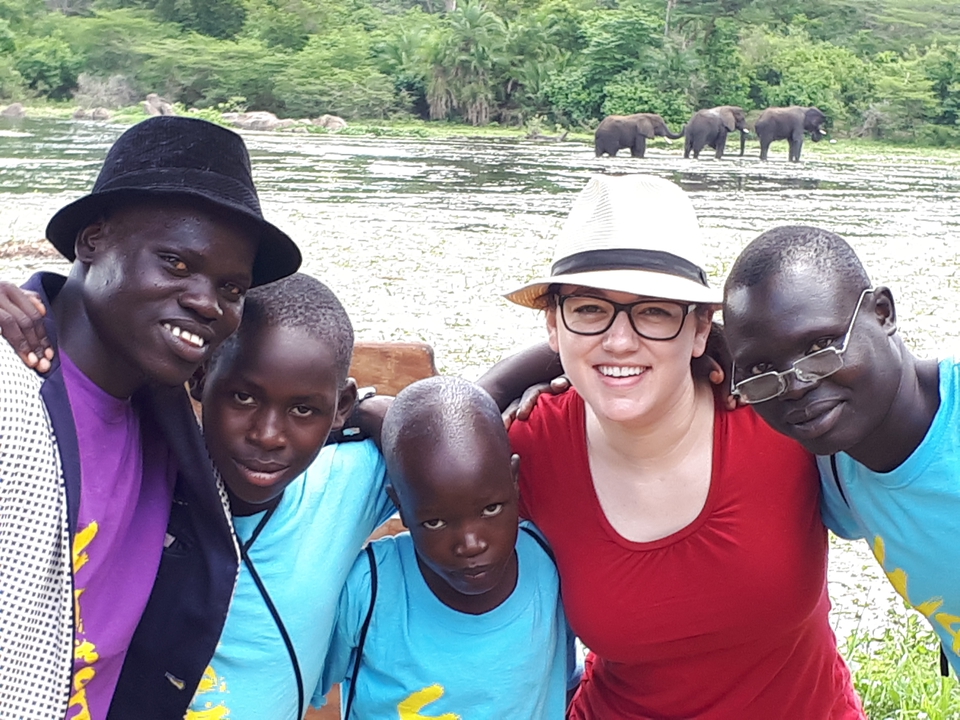 We are all Advocates
Advocacy is another incredibly important topic that T1International was able to support with at Camp Waromo. I love working with the Sonia Nabeta Foundation because Vivian and the team know that in order to have sustainable access to insulin and supplies in Uganda, the Warriors need to speak up for themselves and carry out a plan to ensure the government steps up and meets the rights of people with diabetes.
On the second day of camp, I delivered another intro to advocacy session with all 53 of the Warriors. Two campers helped by translating my words into the local language so that the concepts and ideas would get across more fully. We ended the session with a loud battle cry: "I am an advocate - #insulin4all!"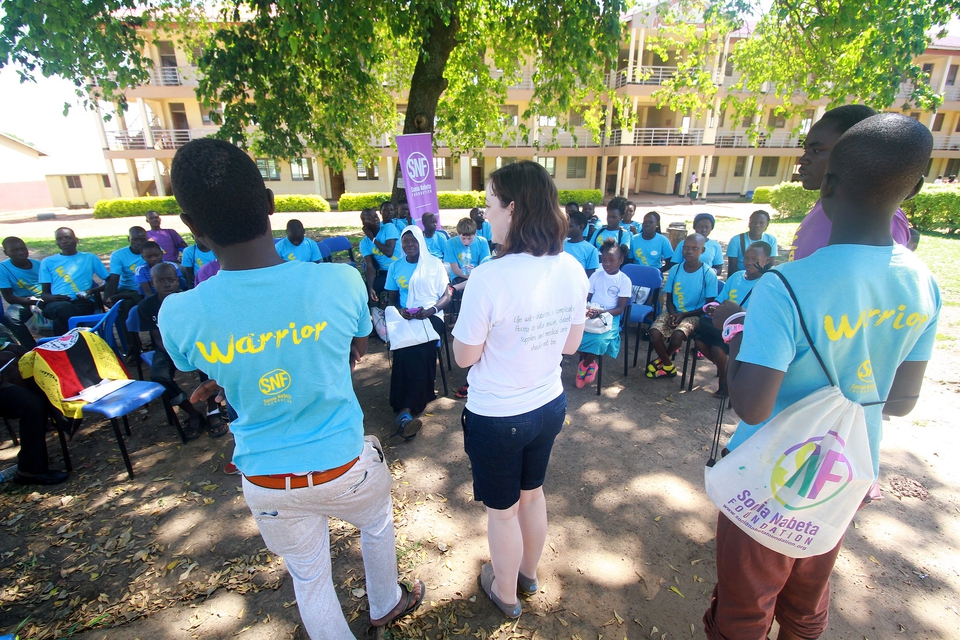 From Plan to Policy
Excitingly, I facilitated another two sessions with the eight Camp Waromo counsellors about their advocacy plan of action. Together we picked the first goal and talked through collecting data and taking action. The goal: get the government to provide one syringe per day to people with type 1 diabetes by the end of this year.
Syringes are a particularly urgent need because the current provision of them will end on December 31, 2017. As I mentioned, no donated supplies are ever certain, so the government needs to take responsibility in supporting this small but incredibly vital aspect of type 1 diabetes management. There is no point in having insulin if you cannot administer it with a syringe.
The SNF counsellors and I worked together to focus in on our goal and we refined the key message that they want to get across when speaking to others about how important provision of syringes is. They came up with some really compelling arguments about how not supporting this initiative would mean a less productive work force and a missed opportunity for a better Uganda. With the support of the SNF, they also have plans to collect data to back up their demands, and they will seek out media exposure and campaign via social media.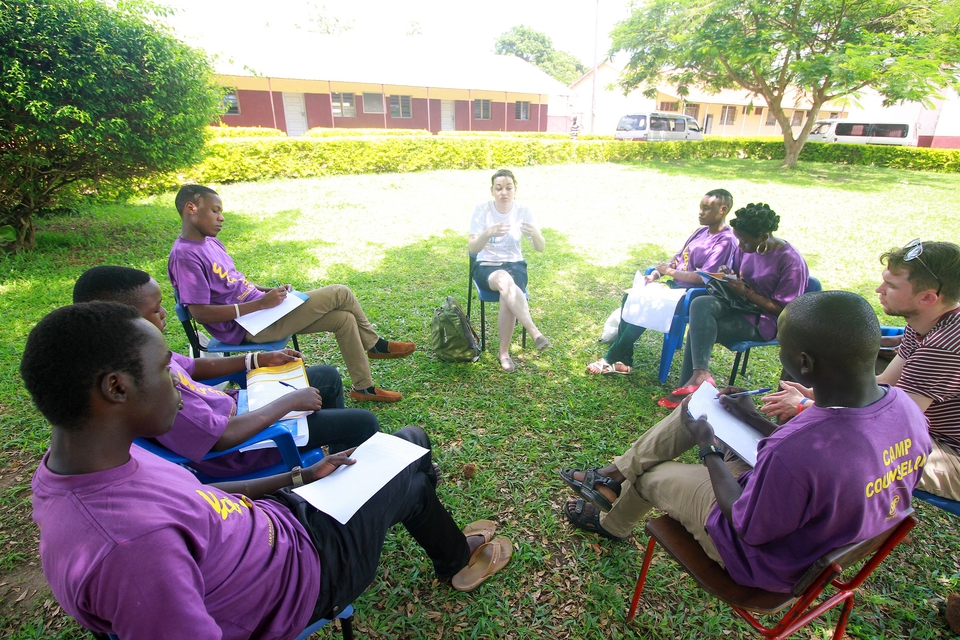 I encourage you to follow #syringes4diabetes1 on social media and support their efforts. Together we will continue to push this goal forward until it is achieved.
I want to say another huge thanks to Vivian and the Sonia Nabeta Foundation, not only for the amazing work that they do, but also for the value they see in working together for a better world for people with type 1 diabetes.