During my 16 years with type 1 diabetes I've experienced living and traveling with the condition all around North and Latin America. I witnessed the struggle for access to insulin in every country I visited. Here is a snapshot of my story.
Type 1 diagnosis – Sydney, Australia
I was diagnosed with type 1 diabetes in early 2000 in Sydney, Australia. I was fortunate to have easy and immediate access to good doctors upon diagnosis and at very little cost with Australia's socialized medical healthcare system. For the next 12 years of my life I was blessed to have continuous access to subsidized insulin, blood glucose meters and all the necessary diabetes supplies. Getting additional, affordable private health insurance allowed me to go from injections to an insulin pump 4 years ago in 2012, a privilege of growing up with diabetes in a country with good access to technology.
Living with Type 1 in NYC
In August 2013, I moved to New York City to continue pursuing my career in advertising. Leading up to my move I was nervous knowing little about the healthcare system in the US. I knew I needed good health cover through my job to be able to comfortably afford my diabetes medication and supplies.
The shift in the healthcare system was a big reality shock for me. I had good health coverage through my company, but still struggled with setting up a consistent supply of medication, finding an endocrinologist that was within my healthcare network, and working with the endocrinology team to get my Novolog covered by my insurance company (as this needed special approval as Humalog was the preferred insulin on my health plan). There were a few tears as I struggled with lots of back and forth between my health care team and the insurance company.
What hit me the hardest was when I would be sitting in the waiting room of my endocrinologist's office among families with young children with type 1 diabetes. I could tell these families did not have the luxury of premium health insurance like me and they were struggling to afford the medication and supplies to do their best in managing their child's chronic condition. When leaving my endocrinologist appointments I'd have a sullen heart for the families who didn't have access to the medication to keep their children well and thriving. I'd heard many stories of diabetics being on old types of insulin because it was cheaper and was all that they could afford. I couldn't imagine not having access to life-saving medication.
I decided to calculate what the true cost of 1 month of diabetes supplies would be if I did not have health insurance. Including the costs associated with my insulin pump (another luxury for those who have premium insurance) my out of pocket costs would be coming close to $800 a month without insurance. This amount included insulin, blood glucose monitor and test strips, my infusion set and cannula supplies and a small amount of money to treat hypoglycemia. I realized that even on my corporate NY income I'd be struggling to pay that amount among all of my general living expenses.
My experience showed me that the healthcare system in America has a lot of room for improvement, especially in providing accessibility to health care and affordable medications for all citizens.
Traveling Latin America with Type 1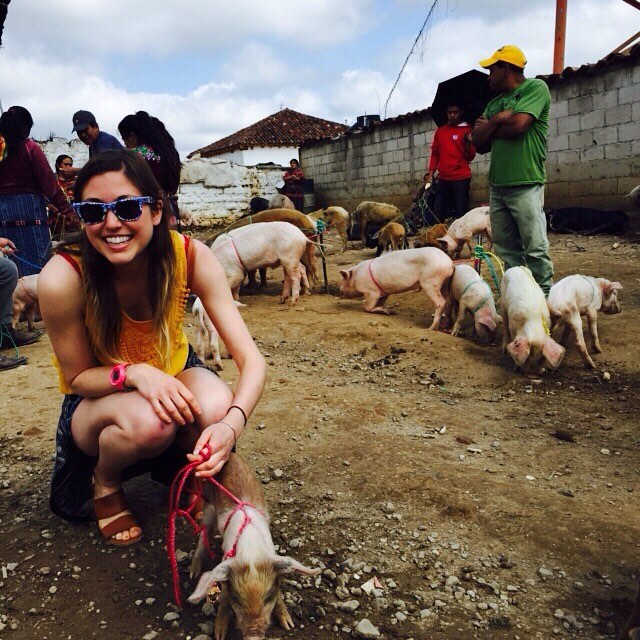 Most recently on my journey with type 1 diabetes, I packed my bags and left my New York apartment to explore Latin America for eight months. I had one backpack just full of diabetes supplies – a combination of insulin pens, insulin vials and pump supplies. I wasn't familiar with the accessibility or price of diabetes medication in Latin America, so I wanted to ensure that I had enough to last me the whole time. Eight months of supplies is a lot!
In Guatemala, I had my first experience purchasing diabetes supplies when I needed to re-stock my test strip supplies to last until June when my vacation would be coming to an end. I had to buy a new glucose meter as well as two months' worth of test strips. Two-hundred USD later I had the supplies I needed.
I had visited a few different pharmacies for price comparison to find the cheapest option. I knew very well that the average Guatemalan salary could not cover the $100 monthly cost of blood glucose monitoring supplies let alone the additional cost of insulin and doctors appointments. I was shocked and surprised at the lack of affordable diabetes medication in Latin America. In my research and travels I found that supplies in other countries, such as Ecuador, were even more expensive.
Many medications in Latin America are extremely cheap, such as antibiotics which you can buy over the counter with no prescription. I struggle to understand why lifesaving medications such as insulin and diabetes supplies are out of reach for most people in this region and around the world. People with diabetes must continue to work together to make diabetes supplies accessible for all.
You can learn more about the cost of diabetes supplies in different countries by clicking here to view the T1International world map.
---
Amy is a 28-year Australian girl who grew up in Sydney, spending the last 3 years in New York City and venturing across Latin America for 8 months before returning to Sydney in May. In 2015 she ran her first marathon – the NY marathon, in 3:39 (4 minutes from qualifying for Boston) while testing her blood glucose levels 4 times during the race. Amy hopes to inspire other people with type 1 diabetes that it is possible to achieve anything we put our minds to.