"Tiene insulina?" I said in what I thought was pretty good Spanish at the first pharmacy I saw in Tijuana, Mexico. I had driven there from Los Angeles for the day with no less than 9 friends and friends-of-friends, all LA residents, all free for the day on a Monday in June, because that's typical of people in LA. I myself had made the extra 45 minute drive that morning from Thousand Oaks, a suburb west of LA in Ventura County where I live with my husband and dog. The road trip to Mexico was for tacos, mainly, but I joined the caravan that morning with a single goal in mind: I was going to try buying insulin from a Mexican pharmacy.
Just a week before the trip, I was down to my very last vial of Humalog. It was June and I was close, but still so far, from hitting my $5,000 deductible for the year, which meant I was still paying full price out of pocket for all of my medical costs until I hit that figure. I had started the year low on supplies (a rookie mistake that I now know to avoid) and had been juggling bills from Dexcom, my doctor's office, and my pump supplier for months, trying to only use our health savings account but often having to pull out credit cards to cover the costs. I called my pharmacy and asked to fill a single vial of Humalog, and the cost was $248.13. I hung up the phone. Instead I went to Walmart and for the first time bought vials of Novolin NPH and Regular for $24.99 each. It was those vials that were serving as my backup insulin a week later when I found myself in that pharmacy in Tijuana.
The pharmacist answered my question in perfect English, "Yes, you need insulin. What type?" I paused, thrilled. I asked if I needed a prescription. No, I did not. At this point, I thought I might either cry or throw up, though which one I couldn't be sure. "Lantus!" I practically shouted at him. "And Humalog. Or Novolog!" He told me to wait while he checked their stock. A moment later, he came back with a refrigerated carton of Lantus pens, identical in appearance to the box I buy in the US. At home, that white box with purple markings costs me $693.40 before my deductible. The price in that Mexican pharmacy? $70, no insurance or prescription needed. Since we had just arrived in town, I asked him to keep the insulin in their fridge and I'd come back to buy it later. I walked out, practically shaking, to share the news with my friends.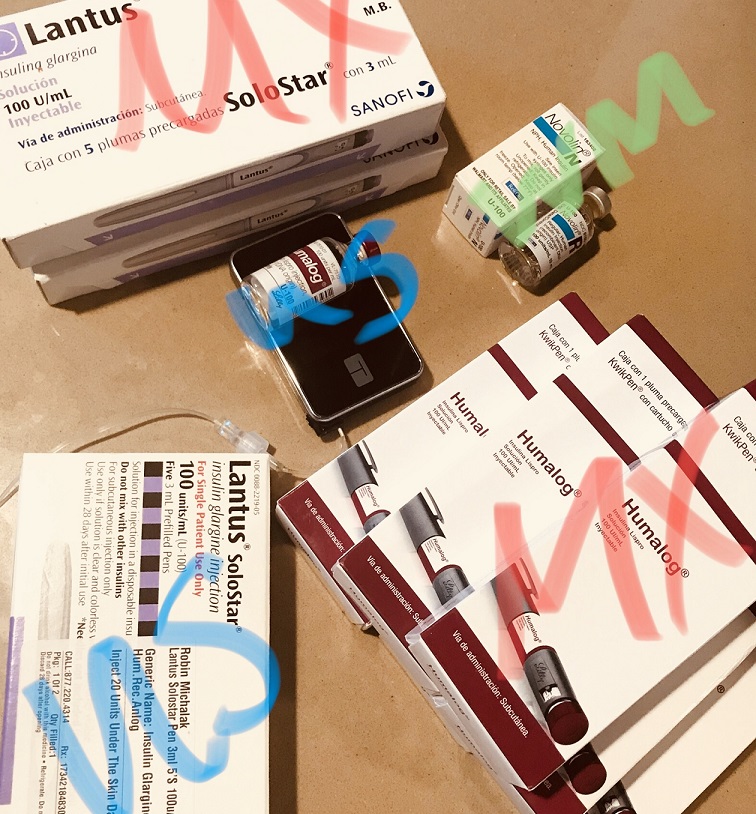 With those good vibes buzzing in the summer air, we set out on our taco crawl, and I checked every pharmacy I saw. It was soon clear that small, family owned pharmacies (which seemed a bit more like apothecaries) did not carry insulin, but the bigger, chain pharmacies did. The big ones looked just like our Rite-Aids and CVS's, and could be found all over the city. The three that I eventually bought insulin from had even cheaper prices than the first one I'd walked into. All told, I bought two cartons of Lantus (5 pens each carton) for $52 each, which is about a year supply for me. I also bought six single Kwikpens of Humalog for $13 dollars each, which is about a six month supply.
My total pharmacy bill that day was $182, and I left Mexico with a year's supply of one insulin and a 6 month's supply of another. That same amount of insulin - the exact same, in identical cartridges and boxes with the same graphics and colors and the same words written on them (in Spanish for the Mexican insulin) - would cost me over $3,000 with my American health coverage. Even after adding in a tank and a half of gas, I saved thousands of dollars by buying my life-saving medications in Mexico, instead of the US.
I was diagnosed with type 1 in 2012 at the age of 27. I was one of those "out-of-the-blue" cases. It's not in my family, and I knew next to nothing about the disease when it happened to me. But type 1 diabetes has taught me things about my body and myself that I am forever grateful to know. I certainly learned a lot buying insulin in Tijuana, but the most powerful lesson by far was that I have options, and so do others. They are not always easy, and they may take some creativity, resourcefulness, and gas money, but this is at least one more anecdotal report of an American going elsewhere for their insulin. With the burden of healthcare costs shifting ever more onto patient's shoulders, I wouldn't be surprised if we start hearing a lot more stories like mine.